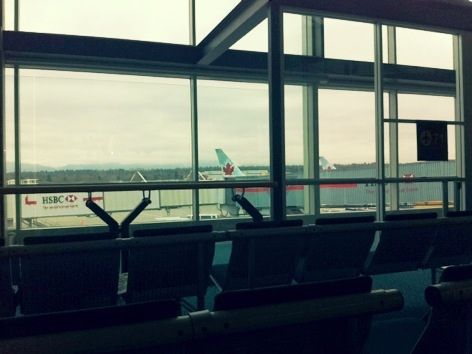 April 8, 2013
Day 1 - I don't enjoy air plane rides
It was a 5 hour long ride to Cancun, I don't fancy being confined to my seat for that long and the really small leg space isn't helping either. I tried entertaining myself by taking pictures of the clouds, I ended up falling asleep. ha!
I think it was around 6pm when we landed at Cancun. I thought we weren't gonna make it alive. While landing the plane bounced and swayed a little, people started screaming. phew' I wasn't ready to die yet.
Weather isn't as bad as what I imagined it to be. Although the humidity was still a slap in the face.
So... I arranged for a private car through the hotel. A guy holding a sign with my name, mmm like a boss. The car was really nice too, actually the cab's in this part of Mexico are all so fancy looking.
The scene outside the car is very familiar. Although I didn't end up going to the Philippines, somehow it felt like home. The trees, the weather, some similarity between the language. I knew this trip is gonna be amazing.
The resort was gated, guards are writing down the plate number of the cars coming in, the drivers name and where they're headed for (there are three 5 star hotels inside plus the El Camaleon Golf Club which also hosts the PGA golf tournaments).
By the time we arrived outside the hotel, the staff were waiting with cold wet towels and some refreshments. I already feel so important, though under-dressed for such a fancy place.
Checking in was fast, they also gave us a short tour and some information about the resort.
This was the view from the hotel lobby.. There are boats going around the resort like a mini tour around the area (will talk about it another day) , golf carts are very convenient too since the beach is pretty far from the lobby or vice versa, they also have bicycles.
I just love how spacious this room was. Especially the wash room! (Everything looks way better in the morning.. watch out on the next post)
After a quick shower, I went to the nearest restaurant (there are 3 restaurants plus a lounge and a pool bar in the resort by the way) from our room - La Laguna.
The pasta was okay - too much sauce and cheese (this was the dish I chose) . I haven't had a bad burger in Mexico at least you get to choose how you want your burger to be cooked (mmmedium rare please!)
I regret waiting this long to write about my trip and not asking more questions about the food, whether they make their own buns / patty. Shame on me for being a cook.
PS : This was my first time travelling using my own money, without my family.
And off I go to dreamland :)