We were supposed to go to AEI at SM MOA but it was already closed by the time we arrived..
So we just went around the mall and stopped by the food court.. Yay Cinnabon!!

They used to have a branch at Rob Ermita but closed like 3 or more years ago? and the only times I get to taste their pastries are during the rare stop overs at SLEX..
So I was super happy when they opened a branch at MOA

i saw another Cinnabon store at Rob galleria but thats way too far from our house hehe and ive only been there 3 times (third time was just yeasterday LOL)

pictures pictures..



A minibon ~ smaller version of their classic cinnamon roll



my favorite cinnabon stix ~ comes in 4 .. you can also buy dips for this.. I prefer Caramel since Im more into something really sweet :) *other dips are Chocolate & Cream Cheese*



Caramel shake ~ my sisters drink.. tastes like sweet coffee

I also grabbed some Crepe from the new store beside Cinnabon ~ I think its called Amazing Crepes or something


I got so curious with the store for they had a pretty long line of customers plus they had displays like the ones you see at Tokyo Cafe..

I got the Caramel Mango Crepe..



mango + vanilla ice cream + cereal + whipped cream & caramel sauce

got this for only 95php cheap and really worth it!
Its better than the ones you get at Crepes and Cream..
cheaper, more toppings and thinner crepes.. they put so many mangoes on my crepe and that made me really happy
hehehe

pictures with my 2 siblings ~ Mina and Koy, cousin Yuji & Aunt..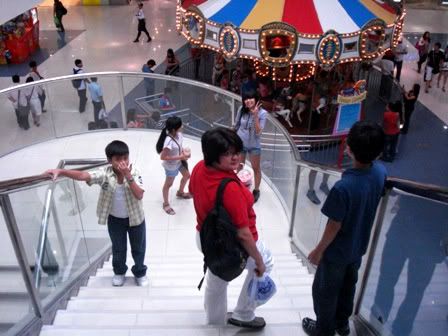 aww really small eyes *i dont like*